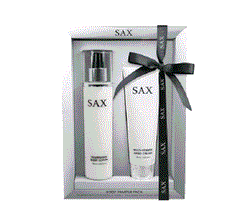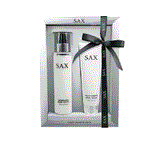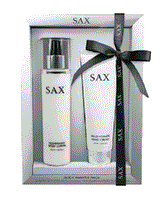 Sax
Sax Body Pamper Pack Gift Set (Body Lotion & Hand Cream)
Sax Body Pamper Pack Gift Set (Body Lotion & Hand Cream) - Indulge your body with the SAX Body Pamper Pack, containing the SAX Nourishing Body Lotion and the SAX luxurious Multi-Vitamin Hand Cream, each fragranced with Peony.

SAX Nourishing Body Lotion is enriched with Shea butter and sunflower oil to moisturise, protect and leave skin feeling velvety soft and smooth. Added Vitamins C & E provide an anti-oxidant boost whilst white tea extracts leave skin looking youthful and radiant.

SAX luxurious Multi-Vitamin Hand Cream is specially formulated with Vitamins A, C and E. This smoothing hand cream moisturises and protects while papaya extract rejuvenates and promotes soft and supple skin all day long.
Sax body pamper pack brought to you by LoveMy Makeup NZ