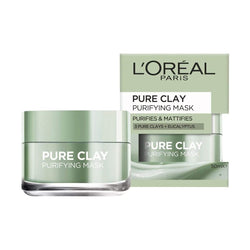 L'Oreal Pure Clay Mask- 3 Pure Clays + Eucalyptus - Purify
A unique combination of 3 pure clays:
KAOLIN: A pure clay highly concentrated with silicates known to absorb impurities and excess oil to help purify delicate skin a ected by daily pollutants.
MONTMORILLONITE: A pure clay rich in minerals, this clay helps to purify and re-balance the skin, reducing imperfections.
GHASSOUL: A pure clay able to absorb impurities and oils without causing irritation, leaving skin smooth, fresh and radiant.
RRP $24.99