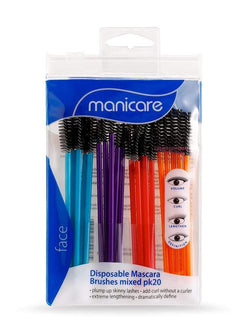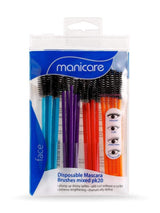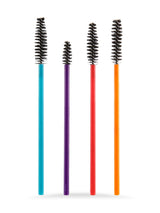 Manicare Disposable Mascara Makeup Brushes Mixed (20 Pack)
Manicare Disposable Mascara Makeup Brushes Mixed (20 Pack)-  The Manicare Mixed Mascara Wands include four different types of disposable mascara brushes to help create four different lash looks, in a handy 20 piece pack. Manicare Disposable Mascara Brushes Mixed at Lovemy Makeup NZ
The four brushes are differentiated by their colour:
Blue can create a voluminous look while boosting your lashes.
Purple is a petite brush that can be used to reach the corners of each eye and perfectly coat the bottom lashes.
Red adds an extra kink to naturally straight lashes; the curved wand is contoured to sweep the lashes into a curl.
Orange has an hourglass shaped brush head that separates each lash, allowing full coverage of mascara to create longer looking lashes.