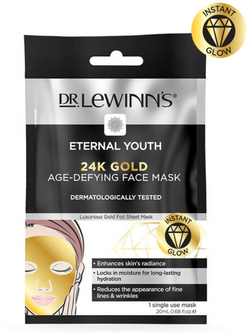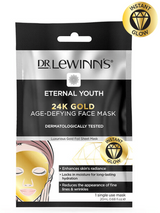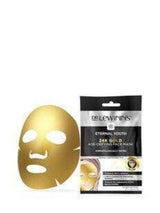 Dr LeWinns
Dr LeWinn's Skincare Face Mask 24K Gold Age Defying
Dr LeWinn's Skincare Eternal Youth 24K Gold Age-Defying Face Mask 1PK -  Dr LeWinns Age Defying Face Mask is a luxurious anti-ageing treatment utilising high performance gold foil for fast infusion of the serum whilst Liposome Technology enhances serum penetration to lock in moisture. Loaded with a highly potent serum enriched with 24K Gold, Juveleven peptide and energising Ginseng extract to instantly brighten, lock in moisture and minimise the appearance of fine lines and wrinkles. Leaves skin with a radiant and dewy glow for a more youthful looking complexion. Dr LeWinns Face Mask brought to you by LoveMy Makeup NZ
HOW TO USE:
1. Cleanse, tone and dry face.
2. Remove mask from sachet & peel away one side of the protective mesh film.
3. Apply the gel side to face using your fingertips, smooth out mask to ensure good contact with skin. Remove second side of the protective mesh film.
4. Relax and leave the mask to activate for 15-20 minutes allowing your skin to absorb the active ingredients.
5. Remove the mask from face and discard. No need to rinse.
6. Massage any remaining liquid from the sachet into your skin.
INGREDIENTS: 24K Gold, Juveleven Peptide and Ginseng Extract.
EXPERT TIP: Place in the fridge before use for a cooling effect. Use mask immediately after opening to prevent drying out. Most effective when used twice a week for the first month then as often as required. For optimum results, follow with the Private Formula range.