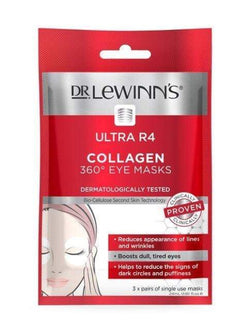 Dr LeWinns
Dr LeWinn's Ultra R4 Collagen 360 Eye Mask (3Pk)
Dr LeWinns Ultra R4 Collagen 360 Eye Mask (1Pk) - Ultra R4 Collagen 360˚ Eye Masks use Bio-Cellulose technology, acting like a second skin to adhere perfectly to the face and in a unique fishtail shape to target the upper eye lid, crows feet and under eye area. Loaded with a highly potent serum of Collagen, Palmitoyl Tripeptide-1, Ash Tree Extract and Vitamin B3 to boost hydration, collagen and help with puffiness and dark circles. The masks adhere perfectly to the skin aiding intense hydration and plumpness to reduce the appearance of lines and wrinkles and boost tired eyes. Dr LeWinns Ultra R4 Collagen 360 Eye Mask At LoveMy Makeup NZ
Dermatologist tested.
100% biodegradable.
HOW TO USE:
Cleanse, tone and dry skin. 
Remove one eye mask from the sachet and peel away one side of the protective mesh film.  
Apply to eye, starting with the round section on the temple, smooth the narrow section on the upper eye lid and the wider section under the eye. 
Smooth out the mask to ensure good contact with the skin. Remove the second protective mesh layer.  
Apply in the same way to the second eye.
Relax and leave the mask to activate for 15-20 minutes allowing your skin to absorb the active ingredients. 
To remove eye mask, start at the temple and hold skin directly under mask with one hand, whilst gently and slowly peeling away from the skin. Discard.
No need to rinse. Massage any remaining serum from the sachet into your skin. 
Use as often as required.