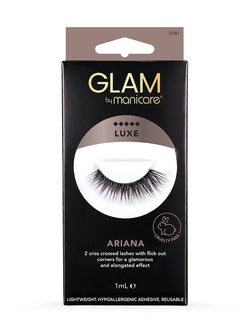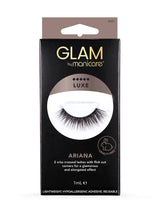 Glam False EyeLashes Luxe (Ariana)
Glam False EyeLashes Luxe (Ariana) - Create an instant wow effect on your eye looks with our range of false lashes. Glam provides the ultimate range of fashion forward lashes & Clearance; accessories to complete any beauty regime, from a natural look to a glamorous night out. Glam False EyeLashes Luxe at LoveMy Makeup Nz
- Lightweight and reuseable
- Synthetic cruelty-free lashes Includes
- Includes hypoallergenic eyelash adhesive
For best results, curl your lashes and apply one coat of mascara before applying lashes.
1. Peel off lashes using tweezers.
2. Measure the lashes against your eye and trim band to correct length (about 80% of your eye width).
3. Holding the lashes with either tweezers or fingers, apply a thin coat of adhesive to the lash band. Be careful not to get the glue on the lash hairs. Wait 20-30 seconds until glue becomes sticky. This will ensure the lashes adhere properly.
Acrylates/Ethylhexyl Acrylate Copolymer, PropyleneGlycol, Phenoxyethanol, Ehtylhexylglycerin, MJ-AWF