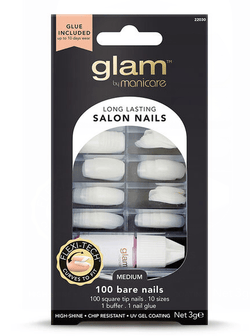 Glam Salon Nail Glue Box 100 Pk (Medium)
Glam Salon Nail Glue Box 100 Pk (Medium) by Manicare at Lovemy Makeup NZ - Flexi-Tech™ technology gives you lightweight, comfortable false nails that curve to the natural contours of your fingertips. The chip resistant UV gel coating provides an ultra-smooth, high-shine gloss finish for up to 10 days wear.
From a chic natural finish to a dramatic, show-stopping effect, Glam by Manicare™ has nails to suit every occasion.
Natural finish, ready for enamel application
Includes 100 short square nails, nail glue, buffer and reusable storage box
Select the correct size for each nail.
Apply glue directly onto your nail.
Apply nail and press for 5 seconds.
Removal:
Soak in acetone polish remover until glue dissolves. Do not break or peel off nails.