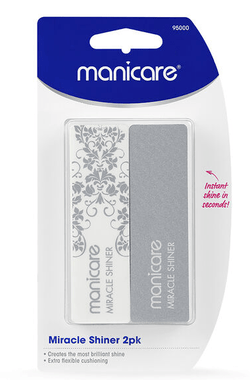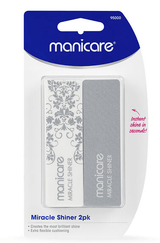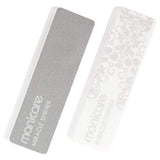 Manicare Miracle Nail Shiner (2 Pack)
Manicare Miracle Nail Shiner (2 Pack) - Miracle shiner creates the most brilliant shine with flexible cushioning. Create the most brilliant long lasting shine on natural nails! You won't believe the shine you can achieve with Manicare's revolutionary Miracle Shiner. Manicare Miracle Shiner at LoveMy Makeup NZ
Prior to use ensure your nails are clean, dry and free from polish.
Use silver surface to smooth ridges and stains. Buff across your nail from side to side with gentle easy strokes.
Lightly buff nails using the patterned surface to achieve the most lustrous glossy high shine.
Regularly treat your cuticles with Manicare Cuticle Therapy Oil. Buff nails before applying nail enamel - the polish adheres to the nail better when smooth.