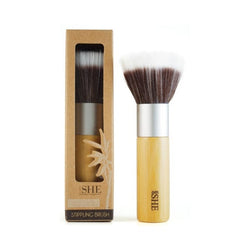 SHE Bamboo Stippling Makeup Brush
SHE Bamboo Stippling Makeup Brush - SHE's Bamboo Stippling Brush is an ultra-soft, large densely packed brush with a blend of both natural and syntehtic Taklon bristles. It is ideal for lightweight application and blending of Liquid and powder foundations, blushes, bronzers and face powders.  Om SHE Makeup Brushes brought to you by LoveMy Makeup NZ

Care Tips: Wash brushes at least once a week using a mild shampoo or brush cleanser. Rinse well and reshape bristles. Leave to dry laying flat or with bristles hanging downwards..