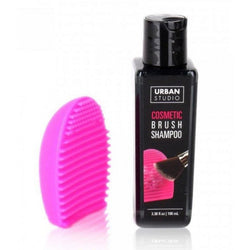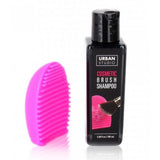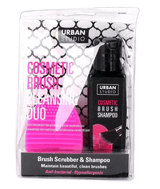 Urban Studio
Urban Studio Cosmetic Brush Cleansing Duo
 Urban Studio Cosmetic Brush Cleansing Duo -  This set contains a mat and shampoo for cleansing all of your cosmetic brushes without harming them. As you would have experienced. over time brushes begin to get dirty & carry bacteria. So you need a good cleanser to keep the makeup brushes clean and hygienic. 
Made from high-quality durable silicone.

Maintain beautiful, clean brushes.

Shampoo is anti-bacterial and hypoallergenic.
How to use:
Rinse brushes in warm water.

Apply a dime-sized amount of brush shampoo on bristles.

Gently scrub brush up and down along brush scrubber.

Rinse with water, reshape bristles, and air dry.
Includes: Silicone Brush Scrubber and 100ml Brush Shampoo